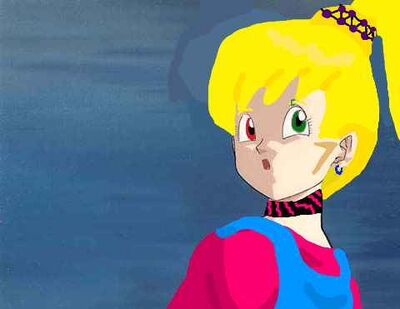 Covertia is the daughter of Clarrissa and Marrisa. Clarrissa is the one who gives birth to her, but she was actually gentially engineered by Bulma, who usedd DNA of both Clarrissa and Marrisa plus a human man. The created embryo was placed in Clarrissa so that is why she gave birth. She is much like a saiyan seeing as who she was raised by. She is a fighter, and fights for the Z fighters from a young age with her mothers' blessing.
She looks up to both of her mothers and loves them to bits.
Covertia often goes by the nickname Tia.
She has been known to hit people for making fun of her unique hair style that she is fond of.
Covertia is a full human with the temper of a saiyan.
She meets Zuko, the son of Trunks from yet another Time line when he comes to there world when his is destroyed leaving him the only survior, and Emerald and this world's Trunks take him in without a second thought.
He makes fun of her hair, and being known for being just like his grandpa is very shocked when Covertia hits him, and even more surprised when it hurts him.
Zuko falls for her after that and works to win her over, and though she fights it he succeeds.
Covertia and Zuko get married.
Personality:
Edit
Covertia is very saiyan like, therefor headstrong, stubborn, and loves fighting. She is also sweet, passionate, and loyal
-She has two mothers
-She got the Scar in training with Nerys
-She Marries someone who got to there world threw a malfunctioning time machine.
-She is gentically engineered
-Zuko gave her the nickname Tia
-Her best friend is Celsia