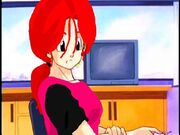 When the Androids attacked, she was underground with her husband and her adoptive daughter. She doesn't want anything to happen to Clarrissa because she would kill the person who hurt her.
Race: Saiyan
Personality: Tempermental, Nice, and Smart.
Tarble: Husband
Clarrissa: Daughter
Kita: Niece
Chichi: Sister-in-law
Niel: Nephew-in-law
Kinomi: Niece
Stephen: Great Nephew
Elvina: Surrogate Niece-in-law
Caibe: Sister
Broly: Brother-in-Law
Seripa: Niece
Tomoyo: Niece
Cherra: Great Niece
She is one of the last of the full blooded Saiyans living on Earth.
Ad blocker interference detected!
Wikia is a free-to-use site that makes money from advertising. We have a modified experience for viewers using ad blockers

Wikia is not accessible if you've made further modifications. Remove the custom ad blocker rule(s) and the page will load as expected.